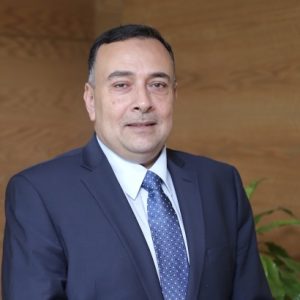 Founding Member: Elsherif Abdel-Razek (2016- 2021), National Bank of Egypt Previous Chief Executive Officer Compliance and Corporate Governance
Elsherif Abdel-Razek, CAMS,CCO,CICA, CAMS (Audit)
Chief Executive Officer Compliance and Corporate Governance  – General Secretariat of the Board of Directors
It is with the greatest sadness that in May 2021, we lost our dear friend, a founding member of the MENA FCCG, Elsherif Abdel-Razek.
Those of us that had the pleasure of working with Elsherif for the 5 years he served as a Member of the MENA FCCG, and many of us who had the pleasure of knowing and working with Elsherif for many more years before, will remember him with the greatest warmth.
A truly sincere and humble man, with a friendly charisma and genuine passion for his profession. He was admired and respected amongst all the MENA FCCG family and across the wider compliance community.
A leader in the North African compliance community, Elsharif had over 36 years professional experience in the Banking industry.
As part of the MENA FCCG family, Elsherif will be remembered as somebody who always stepped up to support the Groups objectives. He was our leader and ambassador for the North Africa region. He was passionate about the cause of combatting financial crime and the role the MENA FCCG plays in the global regulatory community – his work will live on.
Our friend, you will be missed, but never forgotten.
By Michael Matossian, Deputy Chair MENA FCCG